May 22, 2018
Oceano vs Puffy Lux
The Puffy Lux is one of the best all-foam mattresses out there. Are you wondering how it might compare to a hybrid mattress? In this review, we will look at the Brentwood Home Oceano vs the Puffy Lux Mattress. We will review all the positive and negative aspects that gave us our ratings in our typical overview topics.  Which one of these top-rated mattresses will stand out the most? Read on in our Oceano vs Puffy Lux comparison review to find out!
For more detailed information on each of the products, check out our full Oceano mattress review and the Puffy Lux mattress review!
Oceano – Overview:
Possibly the best hybrid mattress available right now, the Oceano is one of our favorites. It's quite easy to see why.  Made with high-quality components including two layers of diverse coils and dense foams, this bed stands almost 15-inches high. They designed every layer of material for balanced comfort and support. This is obvious from a construction an added layer standpoint and by looking into the company values.
With the warranty provided in your purchase, other hybrid mattresses don't stand a chance in contrast. Are you looking for a mattress that checks all the necessary boxes of must-haves for a perfect night of sleep? Consider the Oceano your best choice in hybrid beds. Keep reading to find out how this hybrid stands up to one of the best all-foam mattresses available. You will see why this bed could be a perfect choice for you.
10% OFF Brentwood Home With Code: OSG10
Puffy Lux – Overview:
Maybe there are benefits in an all-foam mattress that might be more suitable to your needs. If that's the case, then the Puffy Lux should stand out as one of the best selections you can make. This medium comfort level bed has materials comparative to a true Tempurpedic mattress. Your body will be cradled in pressure relieving coziness for a night of sound sleeping.
The specific foams used in this design provide some cooling properties as well as added support and motion transfer reduction. Keep in mind that this is the upgraded version to the original Puffy mattress. This progressed version uses an added layer of foam to enhance the feel and properties of the predecessor. Read along in our comparison review to find out how this bed stood up to the Oceano hybrid mattress.
Best Puffy Mattresses Coupon HERE!
Oceano vs Puffy Lux – Delivery:
Free shipping with Fed-Ex comes standard in every USA made to order Brentwood Home Oceano Mattress. It will arrive at your home compressed and roll packed in a box. Weighing in at around 135 pounds in a queen size. Make sure you have a second set of hands for unboxing and set up. You can also select the option of a white glove delivery service for an additional fee. This service includes the setup and removal of your old mattress.
With your purchase of the Puffy Lux Mattress, you also receive standard free shipping with Fed-Ex. We recommend a second set of hand with unboxing and set up, but it weighs much less than the Oceano. The Puffy Lux mattress provides a minimal off-gassing encounter. Because this product is not made overseas, it does not sit in a box for a long period of time.
Oceano vs Puffy Lux – Off-Gassing:
Unless you are sensitive to smells, you likely will not notice any harsh odors during the unboxing process with the Oceano. Eco-friendly materials have been used in the construction of all Brentwood Home mattresses, so you shouldn't have any chemical scents. This thick mattress does need some time to expand and firm up. We noticed expansion didn't take long, but a full 24 hours is recommended to get a true feel for comfort.
With the Puffy Lux the only odors you should notice will come from the plastic wrapping. If you are sensitive to smells, we recommend opening a window or avoiding the area while off-gassing this bed. These beds are made with Certi-PUR certified foams to provide you with a high-quality experience. The Puffy Lux will require one to two days to achieve the full firmness level, however, it will expand quickly.
Ready for your made to order Brentwood Home mattress? Learn more at  BrentwoodHome.com. Or get your Puffy at Puffy.com. 
Oceano vs Puffy Lux – Comfort:
When comparing the comfort of these mattresses there are a few things to keep in mind. Comfort is usually a very subjective factor. However, when determining how comfortable a mattress may be from an objective standpoint there are a few things to focus on. First is the firmness level of the mattress. Ranging from soft to firm and everything in between having some kind of scale to help understand how the bed will sleep for certain positions is helpful. The below scale represents softness to firmness using 1 through 10 and shows how each appeals to certain sleeping positions.
Between the Oceano and Puffy Lux each will fall in similar comfort levels on this scale. The Oceano by Brentwood Home is listed as a medium plush feel. We noticed it to fall right around a 5 on the firmness scale. Making it great for side and back sleepers and okay for occasional stomach sleeping. The Puffy Lux comes in right around a 5.5 to 6.5 making it ideal for all sleeping positions.
Though they fall around the same level on this scale the construction and materials are another objective area to assess how comfortable they will be too. Below is how the Oceano vs Puffy Lux mattress materials performed from an objective comfort view.
Oceano by Brentwood Home – Comfort:
What makes the Brentwood Home Oceano Mattress better than other hybrid mattresses is the extra set of coils used. The stacked micro coil system butts right up to the top layer of gel memory foam. This works to provide support that adjusts to every section of your body while contouring to give you a cocooned feel. This provides ideal levels of pressure point relief and lumbar support.
Airlux foam is utilized under the micro-coils to provide a transitional layer. You can feel the deep level of comfort provided by this layer in every sleeping position. Ergonomics and spinal alignment are reinforced by the main coils.  The mattress is wrapped in a soft cover with additional cooling benefits. This is a bed that will be comfortable for all sleeping positions. You will get a true medium level feel of comfort from the Oceano.
10% OFF Brentwood Home With Code: OSG10
Puffy Lux – Comfort:
The Puffy Lux is a true step up from the original Puffy when it comes to comfort. It provides a medium feel that leans slightly to a firm level. The dense foams used in its construction will give you a true memory foam sensation. You will get better blood flow with the support provided by the top layers of foams. You may even notice a grooving sensation in your lumbar area.
This makes Puffy Lux a great choice in all foam mattress for back sleepers. Pressure points are fully relieved by the ideal comfort level the Puffy Lux provides. This mattress is great for side sleeping, as it allows for perfect sinking at the shoulder and hip. The denser memory foam on top makes stomach sleeping comfortable as well.
Best Puffy Mattresses Coupon HERE!
Oceano – Materials & Construction:
The Brentwood Home Oceano Mattress is made with four distinct layers of high-quality foams and coils. This bed measures at over 14-inches thick and weighs around 130 pounds, making it a luxurious choice. The top layer of this mattress is a 2-inch thick 4-pound density gel memory foam. The second section of this bed is a set of individually pocketed micro coils.
Under the micro-coils, a 2-inch thick 1.8-pound density Airlux Foam provides a breathable transition between the two coil sets. The bottom layer consists of 8-inch coils that are individually wrapped. The perimeter of the mattress contains retention coils for additional edge support. Reinforced coils run across the lumbar zone.
To top off these amazing materials is a TENCEL stretch knit cover with a layer of New Zealand wool batting. Amazing resources have been selected to provide you with comfort and durability to last for many years.
Ready to sleep like a baby? Shop for the Oceano mattress and get the latest pricing at BrentwoodHome.com.
Puffy Lux – Materials & Construction:
The Puffy Lux can't compare to the amazing coil sets in the Oceano. However, this all-foam mattress contains high-quality materials that outshine competitors in its category. Three layers of top choice foams combine to create a 12-inch thick bed. The top layer is 3-inch thick Cooling Cloud memory foam. It provides eight times more airflow than traditional mattresses.  The cooling gel aids in pressure relief as it adapts to your body.
The second layer of the Puffy Lux is the Body Adapting Dual Cloud foam that shapes to the body. This is the layer that is exclusive to the Lux Mattress. It provides pressure point relief that adjusts to all sleeping positions. The next layer is the Climate Comfort Foam, designed to pull heat away from the body to keep you cooler at night. Also helps relieve pressure points.
Firm Core Support foam makes up the bottom layer of this mattress. It is a 7-inch thick material that is ninety-nine percent more responsive than standard foam. The Puffy Lux is a great choice in all-foam mattresses but could never relate to the Brentwood Home Ocean Mattress.
Ready to sleep on a cloud?  Shop the Puffy mattress and find out more at Puffy.com.
Oceano vs Puffy Lux – Motion Transfer:
Unfortunately for the Oceano mattress, the Puffy Lux may have won this round. All-foam mattresses will always do better at stopping motion transfer when compared to a hybrid. The Oceano still has great features that help to dissolve the vibrations caused by movement.
The top layer of dense memory foam works to reduce movement through absorption. Both coil systems are individually wrapped, which helps to isolate any motion. The transitional layer of foam provides an extra layer to stop the waves of movement in their tracks. All in all, the Oceano is a substantial contender when it comes to motion transfer. This is true, even though it is a hybrid mattress. You will rest easy knowing that you haven't sacrificed in this area to get better levels of comfort and support.
The Puffy Lux has thick layers of durable foams that will nearly stop all motion transfer. There are no coils or latex in this mattress, meaning this bed does all it can to dissipate vibrations. The foams utilized are firm and durable for years of supportive comfort. Your body sinks in just enough to make any movements almost unnoticeable.
This bed is by far one of the best mattress choices available in reduced motion transfer. That makes it ideal for couples. This is beneficial for those that may have different schedules or that need to get up frequently throughout the night. The Puffy Lux may outperform the Oceano in the motion transfer category. However, the Oceano is a quality hybrid that outclasses other similar beds.
Oceano vs Puffy Lux – Sleeping Cool:
Sleeping cool is another topic that is very important to most sleepers. When comparing mattresses this can really set one apart over the other. In this comparison this holds true. The Oceano is not only a hybrid but a hybrid that uses a dual coil system as well as natural materials that help with sleeping cool. Even though they use memory foam the negative aspects are greatly reduced. The Puffy Lux, on the other hand, is an all foam mattress that doesn't have coils to help alleviate heat.
Oceano by Brentwood Home – Sleeping Cool:
The Brentwood Home company thought of everything when they designed the Oceano hybrid mattress. Starting with the sleeping surface, TENCEL material covers a layer of New Zealand wool batting. The fibers work together to wick away moisture and evenly distribute body temperature. The cover is hand tufted to prevent bunching and sagging that can add to heat retention.
The top layer of foam allows for a medium feel that prevents excessive sinking. This helps prevent warmth from being trapped around your body.  It is also an open-cell foam that encourages breathability. Under the layer of memory foam, the top layer of micro coils promotes healthy air flow. Beneath this segment, Airflux foam creates an ideal temperature by dissipating heat and channeling warm air away from the body. By the time heat runs its course to the bottom layer of coils, it will have been all but neutralized.
Puffy Lux – Sleeping Cool:
The Puffy Lux does its best to provide a reduction in heat, but the Ocean supersedes in this category. Still, the Puffy Lux has made some improvements to sleeping cool when comparing to the original Puffy. This has made it a strong competitor in the all-foam field. It features the original Cooling Cloud Foam that they designed for eight times the airflow of standard mattresses.
The top layer is infused with gel to draw heat away from the body. It uses convection technology, dispersing warmth, so you can sleep at an ideal temperature on a true memory foam feel. The base of this mattress supports your body to keep it from sinking too far. This allows for a sensation of riding on top of the mattress, encouraging better airflow. They made from a breathable material that they stretch snuggly to prevent bunching.
If sleeping cool is a concern to you make sure you check out our Best Mattresses for Hot Sleepers.
Oceano vs Puffy Lux – Edge Support:
Edge support is another category where the Oceano does a bit better than the Puffy Lux. They constructed this thick mattress with a coil on coil system to provide support and comfort. Thicker gauge steel edge retention coils are used around the perimeter to provide a more solid foundation. This makes the Oceano more usable from side to side and end to end for sleeping surface.
That's great news for those that share their bed with a spouse or even a furry family member. There is no rolling out sensation. Sleeping all the way up to the edge of the bed gives you room to comfortably spread out. You can also sit at the edge of the bed without any major sinking. Due to height, consider a low-profile box spring if you like to sit on the sides of your bed.
For an all-foam mattress, the Puffy Lux puts in an admirable effort for edge support. The dense memory foam helps to hold you up while cocooning your body just slightly. Sitting at the edge of the bed, you will notice a few inches of sinking. However, there is no sliding sensation that we see in other all-foam mattresses. The higher-grade foams used in the Puffy Lux make for a sturdy sleeping area. You can get right up against the edge of this bed without feeling like you will roll out. There is an even consistency throughout that gives the Oceano a run for its money.
Oceano vs Puffy Lux – Value: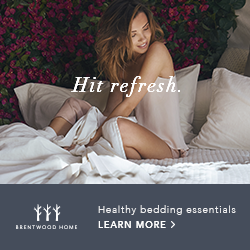 You get a substantial experience when you purchase a Brentwood Home Oceano Mattress. A queen size costs $1495.  This price includes free shipping service through Fed-Ex. This is where they compress and roll-pack the mattress into a box. You can upgrade to a white glove delivery service, which includes old mattress removal, for an extra $199.
You can try out the Ocean for 120 nights, free from worry. They made this mattress with such durable and high-quality materials that it comes backed with a 25-year warranty. You can use our EXCLUSIVE 15% OFF coupon with code: OURSLEEPGUIDE15. This brings your price for a queen Oceano mattress down to just $1270.  You will get the best value with the Oceano.
Interested in the Oceano mattress?  Learn more and shop at BrentwoodHome.com.
10% OFF Brentwood Home With Code: OSG10
The Puffy Lux is one of the better all-foam mattresses, which is why it comes in at a higher price. A queen size costs $1750. There is a current promotion saving you $200, bringing this price point down to a more manageable $1550. Included in your purchase is free shipping through Fed-Ex. They will compress your Puffy Lux and roll-pack it into a box for delivery. You can try the Puffy Lux out with the 101-night sleep trial, and rest assured with a limited lifetime warranty. If you prefer all-foam mattresses but are looking for a lower cost, consider the original Puffy mattress as an alternative.
Interested in the Puffy Lux mattress? Learn more and shop at Puffy.com.
Best Puffy Mattresses Coupon HERE!
Oceano vs Puffy Lux – Our Pick:
The Oceano Mattress from Brentwood Home is one of the most luxurious beds you can find. An entire extra set of coils sets this hybrid choice apart from the rest. You will have a balanced feel as the layers of foams and coils work together to provide you all-night comfort. Even compared to the upgraded Puffy Lux the Oceano is our choice, HANDS DOWN! It is not only more natural choice but uses better materials and construction and the price point is better too, especially for what you get.
The Puffy Lux, even after the discount, comes in at $1550 for a queen size. Meanwhile, you can purchase the ideal feeling medium Oceano mattress in a queen size for as low as $1270 when using our exclusive 15% off coupon code. Just use the code: OURSLEEPGUIDE15 by simply clicking on the image below and entering at checkout!
If you are looking for thicker, very slow responding memory foam mattress than the Puffy Lux may be a good fit for you. Even though we found the Oceano to check more boxes, that doesn't mean that a memory foam mattress isn't going to be a perfect fit for you.
Still unsure?  Check out our FULL Oceano mattress review and the Puffy Lux Mattress Reviews.
That's Not All!
For more comparison reviews make sure you check out our Mattress Comparison Page. This will give you access to all our comparison reviews. Including Puffy vs Purple, Puffy vs Casper, Puffy vs Leesa and Nolah vs Casper. Also check out our Mattress Comparison Tool for a quick side by side glance at up to four of any of our mattresses at once. This is a great way to help narrow down your top contenders and see the differences of each.
Not sure where to start? No problem! Let us help you start your mattress search with Our Mattress Guide to take out any confusion. If you have questions, please contact us, we'd love to hear from you!